: FUTURE NOMADS / HERE TO GO :
The theme of this piece is "FUTURE NOMADS"
This work was a triple collaboration with the team of Makoto Onohara & Moe who produces "Anudo" and the make-up brand Fiveism by THREE and their Official Makeup Artist HIROKI.
I made the base and clothing ( from leather and Japanese paper) for the unique figures.
The project began when I first became interested in the core balance and grace of the figures made by Anudo and so requested a collaboration.
The final make-up design was completed with the co-operation of Fiveism by THREE and HIROKI.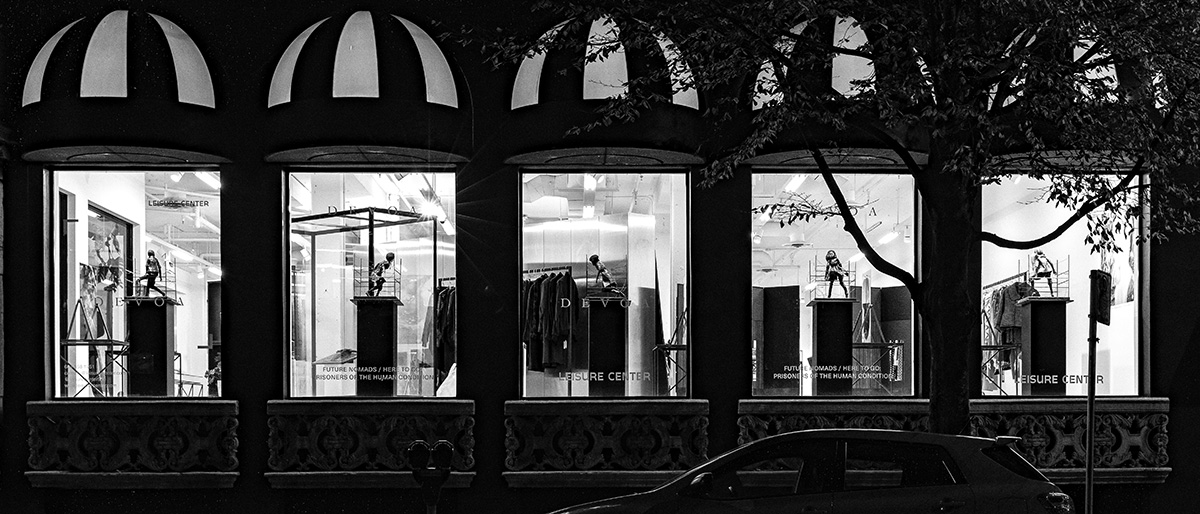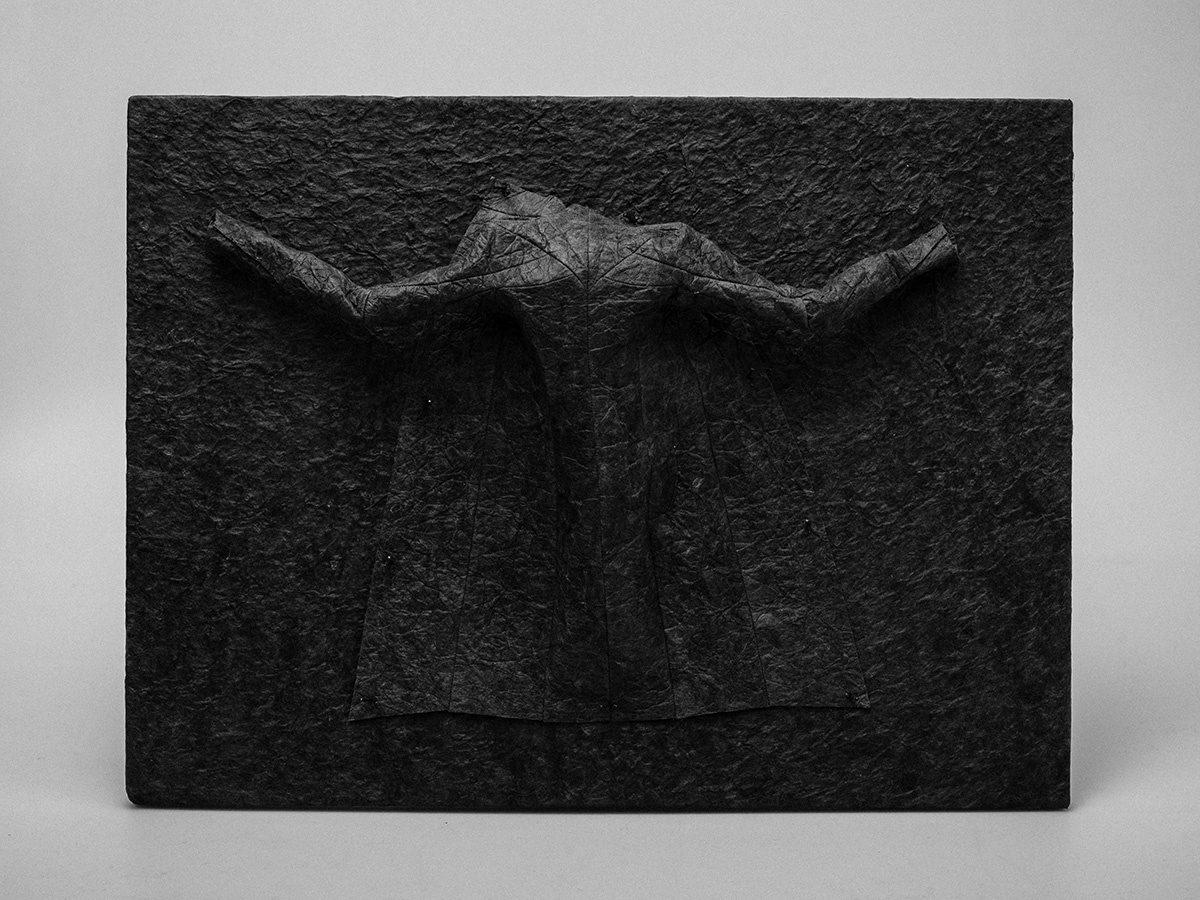 :Concept
FUTURE NOMADS / HERE TO GO :
PRISONERS OF THE HUMAN CONDITION
A DEVOA INSTALLATION by Daisuke Nishida
For Leisure Center Store, Vancouver, Canada
The installation consists of five different humanoid forms which represent the possible evolution of humanity in the coming years perhaps in a time where we have left Earth and travelled out to the stars.
The figures are displayed in poses that represent a juxtaposition between future and tradition, the fluid and dynamic nature of the human spirit, our evolutionary urge to change and progress and the rigidity of our physical forms.
The figures are represented as captive and chained physically even as they retain a sense of movement and hope in their expressions and physicality.
The installation was partially inspired by the work of Canadian filmmaker and photographer Gregory Colbert and his "Ashes and Snow" project. Daisuke first saw his "Nomadic Museum" exhibition in Tokyo some ten years ago and was impressed by the people he showed and the textures he captured on film.
Daisuke wanted to create similar natural-looking textures like those of earthen walls and Japanese traditional "washi" paper and then apply them to futuristic garments and designs. To bring these traditional textures and designs into the far future.
To represent the future of humanity he commissioned five original figures from Japanese artist and designer Motonari Ono.
Daisuke has always been an admirer of the figures created by Ono, not only because they are mysteriously
gender-fluid but also because there is something quite futuristic and insect-like about them, as if they represent the next stage of human evolution, possibly how we may look after we have spent many years living far out in the deep space of the cosmos.
For their clothing he sourced natural materials such as leather from the Guidi Atelier in Italy and traditional Japanese "Washi" paper from the famous Awagami paper factory in Shikoku, Japan.
The design for the faces of the figures has been created as a collaboration with Fiveism x Three : a gender-fluid life-style brand from Japan.
[ https://www.fiveism-x-three.com ]
Their appearance was designed by Fiveism Creative Director Rie Omoto and Official Make-up Artist Hiroki Sato. They wanted to create a vision of a coming race of gender-fluid warriors, beyond the merely human, lost, adrift in deep space.
In this time the human race have already left behind the traditional skin tones and are now colored silver, copper and gold. Even though they are no longer connected to the Earth they still have the five Earth elements painted on their faces in futuristic "kanji" representing fire, wind, earth, air and water as a reminder of the place that they have left behind.
The work was first exhibited at the concept store Leisure Center which is located in Vancouver, Canada :
Leisure Center is a huge space with clothes from various high-fashion and artisan brands and carefully selected books, lifestyle items, skin care items, art works, audio equipment and a cafe which only uses carefully selected materials. (Especially raw chocolate which is the best in the world).
[ https://leisure-center.com ]
The store building has become a cultural heritage site and some original paintings still remain on the floor of the building.
The inside of the store is about 500 square meters and has two floors and is, as the name suggests, a huge space where you can play all day long. You cannot really find anything similar to it in Japan right now.
I do not think there are very many stores in the world that have such carefully created products and are also this spacious.
It was the first time for me to visit Vancouver so I was very nervous but with a large Asian population and a very beautiful cityscape I found it to be a wonderful city where nature and the urban areas are well-balanced and integrated.
When we visited for the actual exhibition we were accompanied by our regular photographer LEN so that we could also exhibit his work at the same time.
We regularly commission LEN to shoot all of our collections and works including the DEVOA and CROMAGNON brands, solo exhibitions, and products and he also holds his own solo exhibitions all over Japan.
We were surprised and delighted by the warm hospitality by which we were greeted by the owners of the Leisure center.
The exhibition period was about 2 months and we spent 3 days setting up and arranging the exhibit.
During that time the owner and his wife took care of everything, including all our meals : morning, noon and night, right up to the moment we boarded the plane which brought us back to Japan. They also gifted us with many touching souvenirs of our trip.
In the end we received a lot of wonderful things, but above all, we treasure their kindness and all the priceless memories. It was a fun trip that I will never forget.
So, I would like to send a very big thank you to Mason and Muyun.
Created: 2019
First Exhibited: Leisure Center(Vancouver, Canada)
Material: Japanese paper, calf leather, brass, wood
Size: H50cm x W40cm x 40cm 5 bodies